Museum Storage in the Midst of a Move
What do you think it takes to move a museum? Museum storage has a bigger role when planning a move than you may think. While the collection(s) itself is the star of the show, storage plays the best supporting actor role in the beginning, middle and end of the process. It takes many years and a lot of people – probably more than you might think.
What are the most important questions to consider?
What is the reason for the move?
There are a handful of reasons a museum may be moving its entire facility, certain collections or parts of certain collections. An issue a lot of museums or historical associations have is that their collections continue to grow, and their physical space stays the same. Or perhaps their storage systems are incredibly outdated, and they received funding to update the space or construct additional space.
What are you moving?
Is a new building being constructed and the entire contents of the museum being relocated? Just specific collections or types of art? How should they be packed? Are there temperature requirements? These are just a few important questions to consider when preparing for a museum move. Most museums have created storage within the existing building. But again, these collections are always growing. Drilling down and understanding the specifics of what each piece of art needs to be moved safely and successfully is key.
How do you move it?
Fun Fact: A little over 10 years ago, the Barnes Museum moved from Merion, Pennsylvania to Philadelphia, Pennsylvania. To put it simply, Dr. Albert Barnes began collecting art in 1912 and in 1922, he purchased an arboretum to create a gallery to showcase his one-of-a-kind collection.  His goal was access and education. Fast forward 90 years. In its current location, it was argued the goal of access was not being met. After A LOT of debate and legal battles, a brand-new museum was built in the Fairmont section of Philadelphia.

Next up – the actual move. Keep in mind, this was an exceptionally valuable collection of paintings. Atelier Art Services was responsible for moving each and every piece of art from Merion to Philadelphia. All in all, the actual move took about 6 months. Paintings, furniture and objects were packaged inside of custom-made crates, which were filled with a specialized packing foam and transported in temperature controlled, cushioned trucks.

Some pieces of art within the collection were so valuable that they needed to be moved one-by-one for insurance purposes. They were unpacked with the same level of care and inspected by the conservation team to ensure there was no damage during transport.
Who is responsible for coordinating and rolling out the relocation efforts?
Curators, registrars, conservationists, art handlers, architects, engineers, storage specialists. Each of these individual roles bring their own value and skillset to the table.
Curators, registrars, conservationists and art handlers are responsible for the actual art itself. They determine what will be moved, documenting the current conditions of the art before and after the move, packing and unpacking (just to list a few). Architects and engineers work in unison with museum staff when a new building or space is being constructed. Storage specialists (like yours truly at O'Brien Systems) collaborate with all the above to determine the best storage solutions to meet the customers' requirement.
How does museum storage come into play during a move?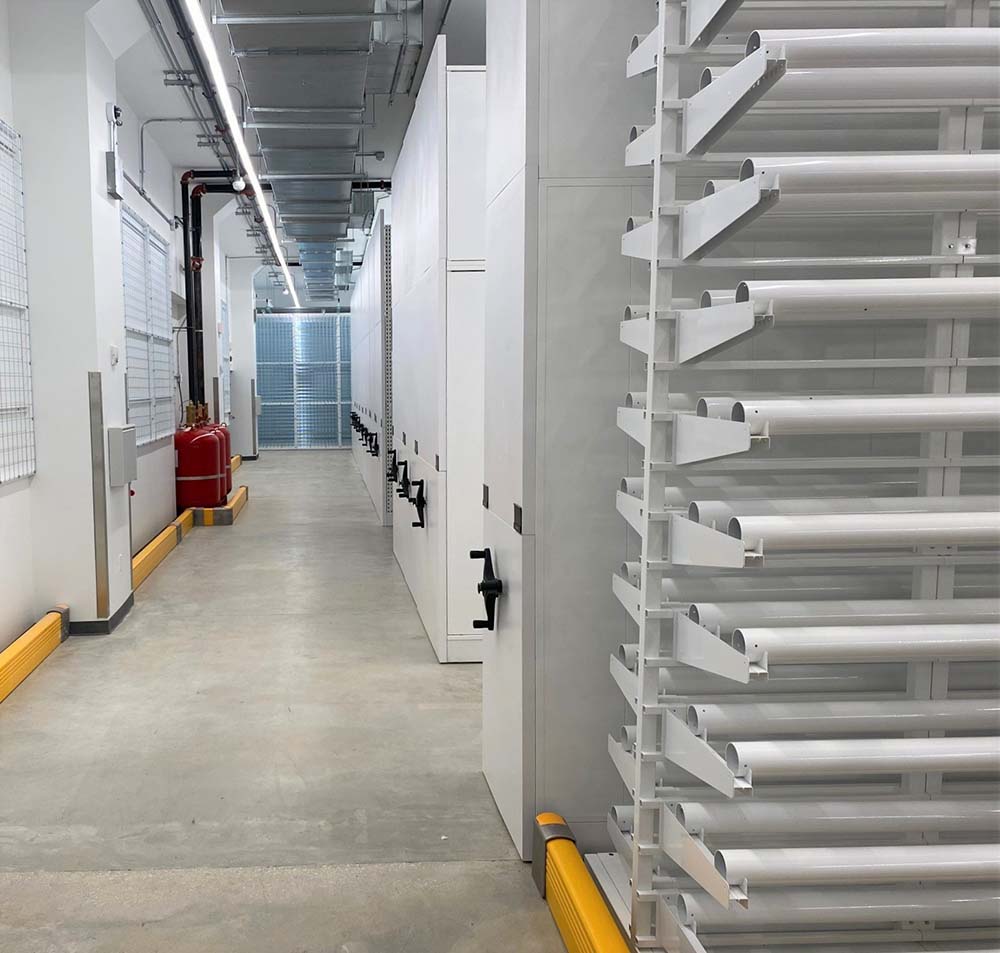 Moving a museum or any art in general is a big deal. There are moving companies specifically dedicated to moving art. They are trained professionals who know how to handle, pack, transport and deliver one piece or entire collections of artworks to their final or temporary destination.
Recently, O'Brien Systems along with Delta Designs created custom transfer carts for a museum client in Washington, DC that is undergoing renovation. The 12 cabinets were made of steel and finished with powder coated paint to avoid any off gassing that could damage the art. Each cabinet was mounted on wheels and consisted of 4 to 6 pull out art screens. The paintings will be moved and stored safely in the lockable carts until they are ready to be brought back to their proper home.
What types of storage are used throughout?
Envision you are walking through a museum. Look around. There is art of all shapes, sizes and mediums. Now imagine it all being stored safely. There is a storage solution for virtually every type of art.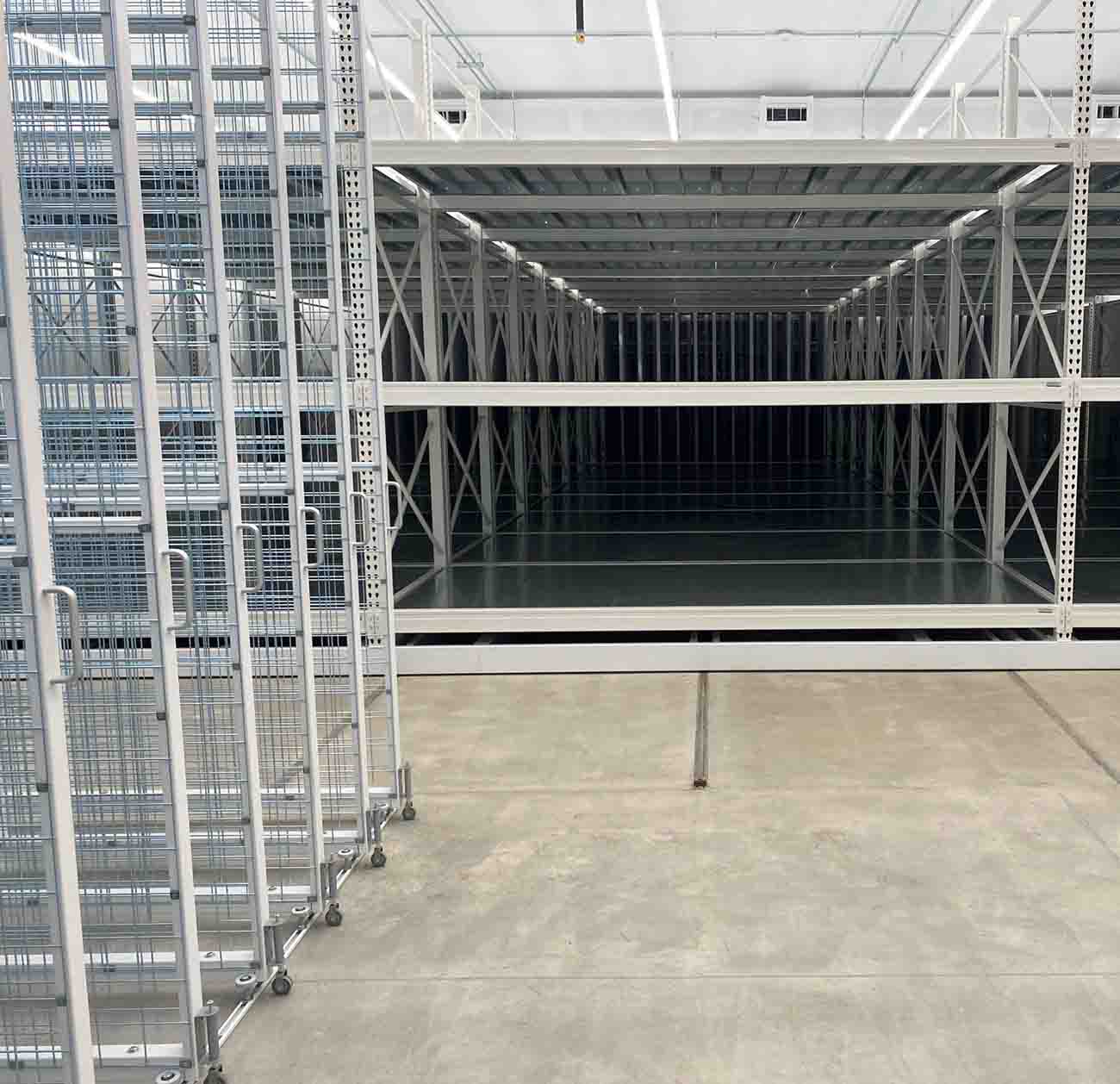 Framed paintings or photographs – art screens, bin units
Prints, drawings and photographs – flats files, solander boxes stored on fixed or high-density shelving
Furniture, sculptures and objects – wire rack or perforated shelves on fixed or high-density shelving, conservation cabinets
Textiles – rolled on cantilever rack
Clothing and accessories – fixed or high-density shelving with shelves and drawers in custom sizes
The future is visible.
While there will always be a need for some types or pieces of art to be safely tucked away in storage unless on display, visual storage is an emerging trend. After all, the ultimate goal of most museums and historical associations is to showcase the beauty and history of their collections. Museums are moving towards creating visual storage solutions within gallery spaces or making existing storage spaces more "visitor friendly".
The crazy part is – this is just a condensed overview. So much time, energy and detail go into the planning alone. The actual roll out of the move itself is not a sprint, but a marathon. A marathon with a whole lot of team members with the same goal in mind: preserve history at all costs.