High-Density Mobile Storage Systems
If you've been knee deep in research looking for a new storage system for your space, it's likely you've come across high-density mobile storage system. Sure, the end result looks great – but how exactly do we get there? There's much more to do than just dropping some shelving into your office or warehouse.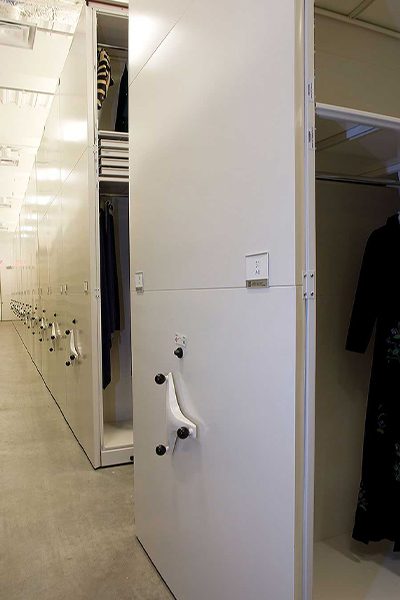 Given the amount of flexibility a high-density mobile storage system provides, it is one of the most common storage solutions we recommend and install. We're going to go step by step through the process of how we determine a high-density mobile storage shelving system is right for you.
Step 1 – What are the issues you're facing?
Perhaps there isn't necessarily an issue, and your company is building an entire new warehouse space and you've selected a high-density system to house your inventory. Often times, that is not the case. We've had clients run into a variety of issues with their existing storage systems and find themselves in a position to reevaluate for their future needs. You may need to:
reduce square footage required for material stored.
house more inventory on site due to supply chain issues.
create a more efficient, purpose-built method to house your material.
Step 2 – How do we know a high-density mobile storage system is right for you?
Although it may seem like a solution to all your problems, it's not always the perfect fit. We conduct a deep dive into your business to determine if this type of system is the best option for your space.
First, we analyze your current storage requirements and map a projection of your company's future growth. We then assess throughput and design around the required level of activity, take real estate costs into consideration and generate an ROI analysis.
After compiling all this information, we can verify if this is the best system moving forward.
Step 3 – Where is it being installed?
Whether it is an existing room or a brand-new building, the location and layout of the space is of great importance. We work hand in hand with your team to make sure no stone goes unturned when it comes to workplace safety. Here are a few of the steps we take to ensure the high-density mobile storage system is installed with safety at the forefront of our minds.
Provide floor load calculations for your structural engineer to review to ensure the system is safe.
Check and work with ceiling height and any room obstructions (pipes, columns, fire devices, sprinkler systems).
Provide an AutoCAD plan for review by life safety personnel and end users.
Step 4 – How does the installation process work?
We have a factory-trained, skilled crew to facilitate an expedited and quality installation. With hundreds of installations under their belts, our crew can troubleshoot any issues that may arise. Your salesperson will manage the entire project and coordinate with other trades to ensure harmony and maintain a schedule.
Step 5 – What happens post-installation?
Our team is always available to address any post-installation issues. O'Brien Systems has a full-time in-house service department to handle any mechanical or operational issues. Relocation and expansion services are also available as required.
A high-density mobile storage system can change the way you store your most valuable items. Could this be the answer to your storage issues?